Today was a busy day for crafting. I finally finished the anklets I started MONTHS ago. Really, what happened was not at all surprising. I excitedly finished sock #1, only to fail to cast on #2. I cast on the second this last monday and finished it today. That sock did not want me to knit, but I perservered and finished it. I'm a trooper. Here they are, knit with the Interlacements Toasty Toes I received from a swap pal:




I also spent a good portion of this afternoon dying my fool head off. I dyed a bunch of cloth diapers and some onesies. Since diapers aren't all that exciting, here's the onesies, in the same colors: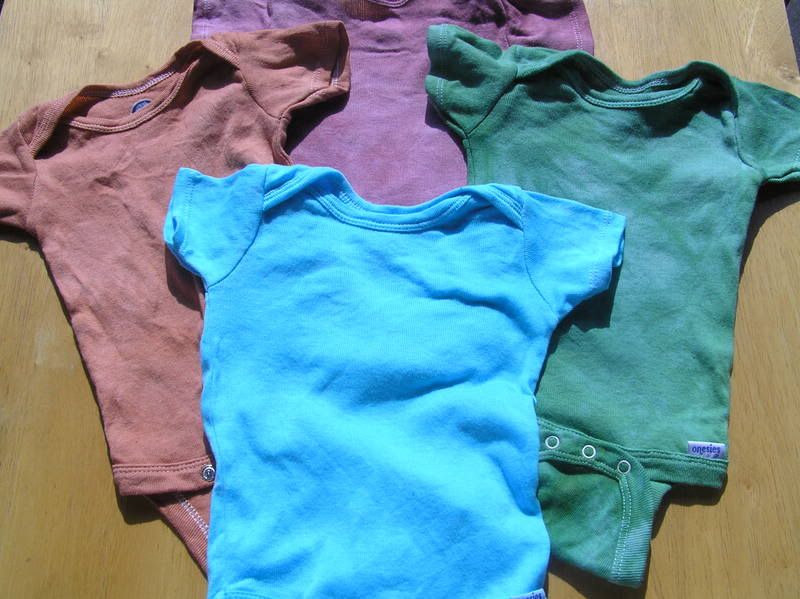 I also used the extra onesie from the 5-pack to try my hand at tie-dye. It's my first attempt since my actual first attempt at age 9. It turned out much better than the shirt I tried to do the summer before fifth grade. I guess I've learned a few things with age.




It was freakin' BRIGHT out today, in case you weren't blinded by the photos.

Speaking of onesies... I ordered a couple from artopiary and they finally arrived yesterday.




The pink girly one is not for Eli (Yep, it's official. Baby = Elijah Eugene.), it's for a baby stuff swap I'm participating in. I hope she likes it. I LOVE it. I also love Eli's onesie, the frog is adorable. But even cuter...




Butts!