Dammit! I had the heel done for my new RPM socks, tried it on and saw this: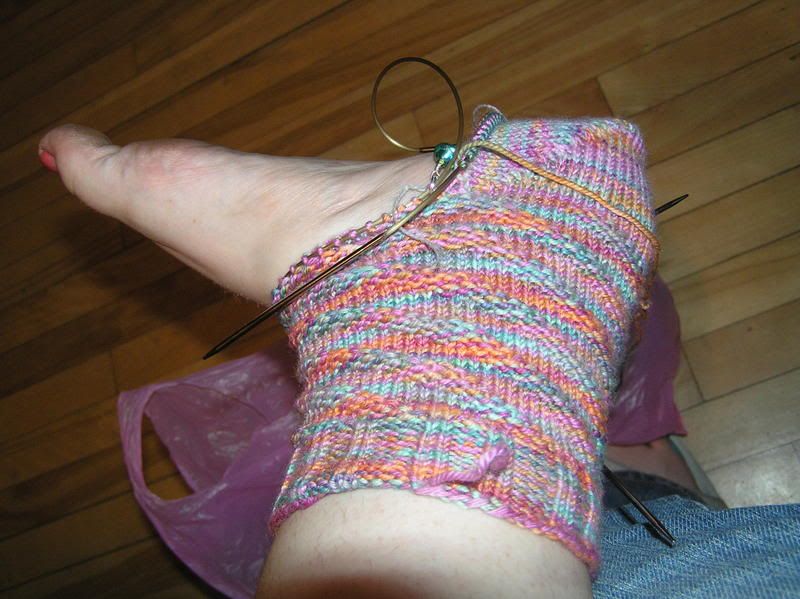 What is going on with the heel?!? Let's take a closer look.




Agh!!! It's all wierd and pointy! This was my first time making a short row heel, and I have to say it sort of sucked. Not that I won't try again some other time, but I think the reinforcement thread really made the pointy issue worse here. So I frogged the heel and started a good ol' trusty flap heel. Sigh.

This is what I felt like upon having to start the heel over:




This was Marley's reaction when I kept trying to take a picture of him in his kennel this weekend. I never got the photo I wanted though. Why was I pestering the poor guy so much? Well, take a look at this photo.




Notice anything in this photo that wasn't in the last? That's right. That blue tube thing is there! Well, when Josh and I got home from the store on Saturday, we saw Marley in his kennel with that blue tube stuck on his arm. He's covering it with his head in the first pic. He was super embarassed that he got his toy stuck on his arm. It wasn't really "stuck" though. When he stood up, it fell right off. Thus the second photo. I think I made him feel worse with the camera and all the hysterical laughing, but it was so damn funny. I wish I'd gotten a better pic.